About the Artist
Concentrating on drawing and installation, Tilla's work explores themes of identity, memory, sexual violence, and the body.  Largely autobiographical, she uses biological materials such as broken eggshells and living matter – plants, insects, fungus – as media, either drawing directly onto them or using them to transform objects and spaces.
Material fragments echo shards of memory. Fragile or ephemeral media are juxtaposed or layered with powerful images, and conventional display methods are inverted, revealing their inherent violence.
Born in Stoke Newington, Tilla lives and works in London.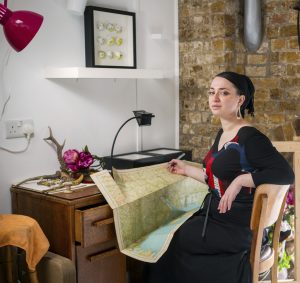 Exhibitions & Residencies
2023, Deck of Esther Exhibition, JW3, London, UK
2022, Nature/Nurture, Guest Curator at Leyden Gallery, London, UK
2022, Official Memories at Thamesside Studios, London, UK
2022, Living Under Water, Krakow, Poland
2022, Solo Show at The Black Book, London, UK
2021, Runt of the Litter November, London, UK
2021, Runt of the Litter September, London, UK
2021, Summer in Aldgate, Leman Locke, London, UK
2020, Rocket Barber Shop Pop-Up, London, UK 
2020, Venice Megillah Project Residency, Venice, Italy
2020, ARTY X WELL-BEING, London, UK
2019, Atina Artists Residency Program, Atina, Italy
2019, Creature (Dis)Comforts, Leyden Gallery, London UK
2019, Gavin Turk – Portrait of an Egg, London UK
2019, JW3 Artists Salon, London UK
2018, Puri Artists Residency Program, Puri, India
2018, Enshrine, London, UK
2017, PASSPort Britannia, Safehouse 1, London, UK
2017, Midsummer Madness, Leyden Gallery, London, UK
2017, Platform for Emerging Arts 14, Leyden Gallery, London, UK
2017, 51%RememberHer (for International Women's Day), Community Memorial Church, London, UK
2016, Closeted, Reshet Conference, London, UK
2013, The Singers, Limmud Conference 2013, Warwick University Campus, UK
2013, Points of Contact, CRAASH – Exhibitor and delegate at Classifying Sex – Debating the DSM-5, Cambridge, UK
2012, Art Takes Time Square, NY, USA
2010, Migration/Mitigation II, Saatchi Gallery – won the Art of Giving National Art Competition for Painting and Drawing, London, UK
2010, Shortlisted for Salon Contemporary's Best of the UK Class of 2009 exhibition
2010, Big Chill, Kings College, Cambridge, UK
2010, Art Jam, Newnham College, Cambridge, UK
2009, Artrepreneurs, Cambridge Public Library, Cambridge, UK
2009, Fragmented Dialogues, part of the Changing Spaces project, 13 Fitzroy Street, Cambridge, UK
2009, Migration/Mitigation, Final Degree Show, Ruskin Building, Cambridge School of Art, Cambridge, UK
2008, Group Exhibition, Ruskin Gallery, Cambridge, UK
2008, Whole Sustenance, Cambridge Botanic Gardens, Cambridge, UK
2007, Sleep Unit I, Life Sciences Greenhouse, Anglia Ruskin Campus, Cambridge, UK
2007, Into the Woods, Epping Forest, Essex, UK
2007, Vertical Fields, Ruskin Gallery, Cambridge School of Art, Cambridge, UK